Take a Luxe Beach Vacation in West Oahu, Hawaii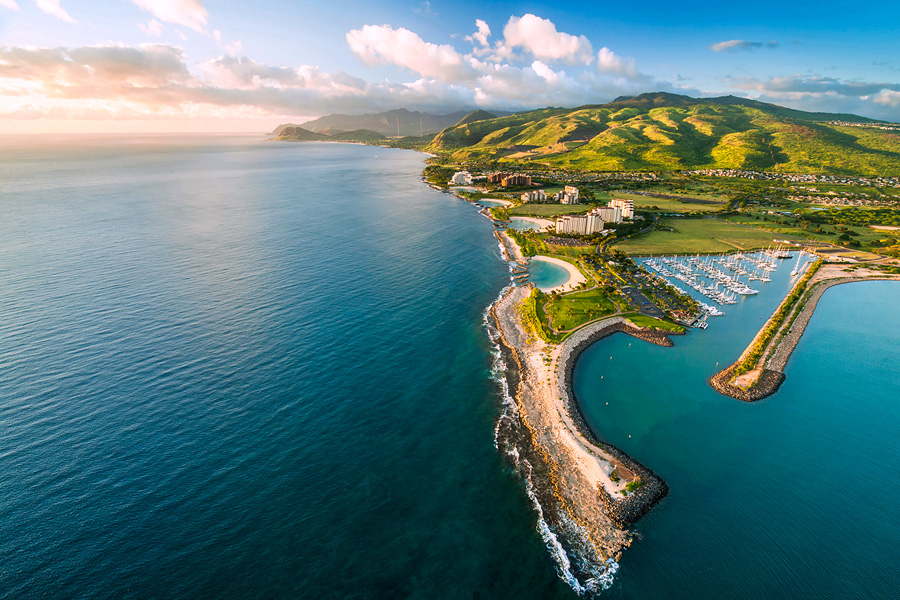 Ko Olina, the resort on the western coast of Oahu, offers a reprieve from the traffic and crowds of Waikiki, with predictably better weather, a slower pace, and natural beauty in spades - plus plenty of high-end, seaside, worth-the-splurge accommodations.
Where to Stay
A series of new or freshly renovated properties on Ko Olina share public amenities such as restaurants, a stretch of beach, a footpath, and stunning ocean and volcanic hillside views. Last year, the Four Seasons opened its first hotel on Oahu (rates from $525; look for specials like "stay three nights, get a fourth night free"); it offers something for everyone from families to couples on a romantic getaway. The property is situated on the first in a series of tranquil (man-made) lagoons. There are top-tier options like a private helicopter pad that can take you anywhere on the island in minutes to Missoni-patterned dressing rooms in the hotel's not-to-be-missed stylish boutique.
Next door is the Aulani Hotel (look for discounts on stays of more than five days), a Disney Resort & Spa that has a supervised complimentary kids' club, so parents can soak up the lagoon-side white-sand beaches. There's also a free shuttle to the golf course located across the street. For the kids, there are boundless activities, from pool parties to luaus to high-tech scavenger hunts.
For longer vacations and a hybrid hotel-vacation-rental feel, there are the Beach Villas at Ko Olina, which have two- and three-bedroom options, some as big as 1,650 square feet (prices vary, and there is a one-week rental minimum; expect rates to start around $2,500 for seven nights). Amenities include kitchens, a steam room and sauna, a pool, a fitness center, and well-landscaped grounds.
Where to Eat
Noe, located at the Four Seasons, showcases how Italian food can highlight the freshest Hawaiian ingredients. An ideal meal should include some - or all - of the following: rosemary focaccia ($7), the burrata with beets and arugula ($21), yellowtail crudo with hazelnuts ($22), and maccheroni with crab, spinach, and lemon ($30).
Monkeypod, which sources 95 percent of its food locally, comes from famed Hawaiian restaurateur Peter Merriman. It's a great place for lunch. Start with a simple salad, such as the avocado cucumber ($13). Then move on to wood-fired pizzas: The Bourgeois comes topped with Big Island lobster, wild mushrooms, thyme, and garlic white sauce ($27). Save room for the pies, which are enormous but worth the calories, particularly the strawberry-cream one ($10).
Considered one of the pioneers of modern Hawaiian cuisine, Roy Yamaguchi has a restaurant at the Ko Olina Resort called Roy's. There's a two-course entrée-and-dessert option ($51) that includes some of Yamaguchi's famous dishes like macadamia-crusted fish, followed by Roy's melting-chocolate soufflé. There's plenty of options to suit carnivores, pescatarians, and even vegans (like mochi-crusted Kabocha with black-currant tapenade, $24).
Ko Olina Resort
92-1047 Olani Street
Ko Olina, HI 96707 USA
Visit KoOlina.com
---
---