Pronghorn Resort Announces Debut of High Desert, Design-Forward Huntington Lodge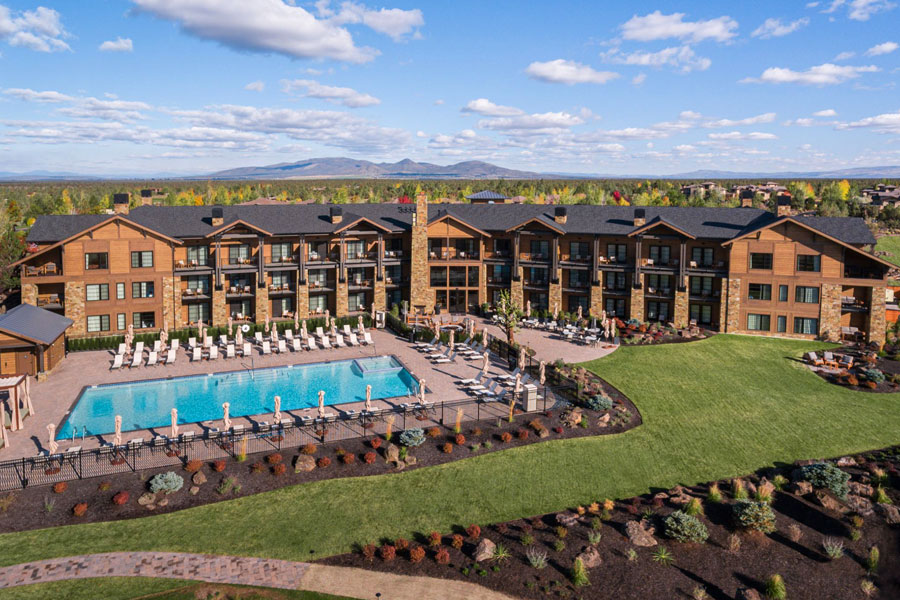 Pronghorn Resort, a leading luxury hotel and residential community in Bend, Ore., today announced the much-anticipated Huntington Lodge will officially open in April 2019. With a striking modern design unlike anything else in the area, the Lodge features 104 guest rooms and suites; a vibrant lobby lounge and gathering place that connects indoor and outdoor dining spaces; a new outdoor pool created for year-round use with a spacious deck and a central fireplace. Additional resort enhancements include a rebranded Cascada signature restaurant and the transformation of Chanterelle, which will become flexible event and meeting space to accommodate the increased number of visitors from the Lodge.
Located at the heart of the 640-acre community of Pronghorn Resort, Huntington Lodge overlooks the 18th hole of the Tom Fazio-designed Championship Golf Course and offers stunning views of the surrounding juniper groves and nine peaks along the Cascade Mountain Range. The Lodge is conveniently located near the 55,000-square-foot clubhouse and the Trailhead recreation center with a family swimming pool and fitness center. Resort and golf operations at Pronghorn Resort are managed by Troon, the world's largest club management company.
Huntington Lodge is designed by Portland-based firms Ankrom Moisan Architecture and OMFGCO, a creative agency also responsible for the brand concept and interior design. Artistically inspired by its surrounding landscapes, the Lodge's design celebrates the tranquility and spirit of Central Oregon's high desert while capitalizing on the picturesque, panoramic mountain views.
The décor takes its cues from natural elements nearby, incorporating wood furnishings and soft, organic layers for comfort encouraging a style throughout the property that is authentic to the region's roots and rich history. As a fresh departure from traditional alpine lodge design, Huntington Lodge has clean architectural lines and glass accents that establish its decidedly modern elements, which are unique to the area. OMFGCO also worked with over 20 Oregon-based artists, craftspeople, and fabricators to create one-of-a-kind works found throughout the property.
Each of the 104 guest rooms and suites feature panoramic views of the surrounding forest and bordering mountains. With the intention of connecting guests to the outdoors, rooms offer private outdoor terraces and expansive glass windows. Additional luxury amenities include in-room fireplaces, full kitchens and en suite master bathrooms with a full shower and tub. The décor is inspired by natural tones and textures of the high desert with organic wood and expressive, modern furnishings that are brightened with contrasting, choice accents. Larger configurations are available with connected living rooms. Two-bedroom suites are also available for larger groups or families.
"Pronghorn has long been known as the premiere resort and residential community in the Pacific Northwest. With the addition of Huntington Lodge, we hope to further cement ourselves as a leader in the market by continuing to evolve and creating a new and memorable guest experience," said Pronghorn General Manager Spencer Schaub. "Our goal was to create something truly unique to the region and bring exciting new energy to the resort; and we are so pleased and so proud of the design firms we partnered with who have absolutely helped deliver on that vision."
The Huntington Lodge lounge bar will offer small plates throughout the afternoon and evening, featuring local and seasonal items as well as signature craft cocktails and fine wines from around the world, including several acclaimed Oregon producers. Pronghorn offers several other dining venues, as well as an array of lodging options from junior suites to four-bedroom vacation homes. Other resort amenities include a full-service spa, fitness center and movement studio, two world-class golf courses managed by Troon and golf lessons through the Pronghorn Academy by Jeff Ritter.
Effective March 29, 2019, reservations for stays at the Huntington Lodge may be made. For more information, visit PronghornResort.com or call (866) 560-2514.
---
---