Resort Developer Plans 400 New Housing Units for Princeville, Kauai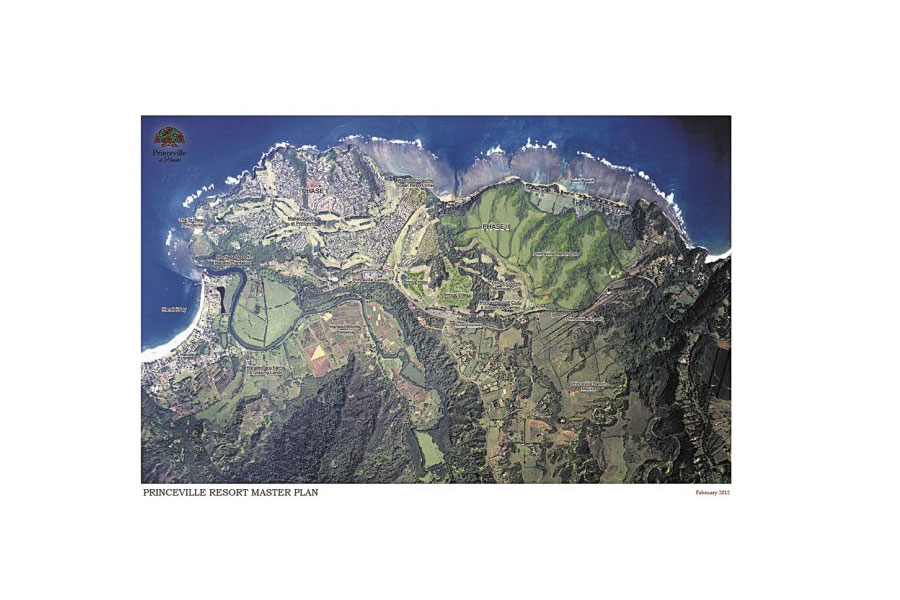 PRINCEVILLE - Developer Jeff Stone has unveiled his vision for Phase II of a community master plan for Princeville Resort that's been decades in the making.
"Phase I is pretty much fully built out," Stone said. "So our vision here is to take Phase II and have some product - the Prince Hale and the Prince Villas - more resort product along with the Prince Golf Course, and have some ranch homes."
The development plan, first outlined in 1969, slowed in the early 1990s after Japanese beer maker Suntory bought the 9,000-acre property in partnership with Nippon Shinpan Co. and Matsui & Company. In 2005, Morgan Stanley Real Estate Fund IV became a partner with Stone and CornerstoneReal Estate Advisors to acquire the Princeville Resort assets from Suntory. The sale included the 252-room St. Regis resort (formerly The Princeville Hotel) now managed by Starwood, the Prince and Makai golf courses and club facilities, Princeville Tennis Club, Princeville Health Club and Spa, Princeville Shopping Center, Princeville Airport, Princeville Ranch and historic taro lands in Hanalei Valley.
Since that time, Stone and the Resort Group have been steadily working to give the Phase I development a much-needed facelift and revive the Phase II master development plan for the community. During the last seven years, Stone has led the renovation of the Makai Golf Course and its facilities, the update of Princeville Shopping Center, the $85 million renovation of St. Regis Princeville Resort, the $100 million construction of the Westin Princeville Ocean Resort Villas, the $10 million renovation of the Prince Golf Course and the ongoing remodel of Princeville Golf Club, including the addition of an Adventure Center.
"We've been trying to fix what's broken and bring back the grandeur Princeville used to have," Stone told The Garden Island. "We're really proud of it, because we've been able to kind of retool. We took the fitness area and moved it to the Makai Clubhouse and put in tennis courts, a pool, fitness rooms and reestablished Makai as Princeville Phase I."
He said the Makai, now managed by Toon, is meant to be more casual than the Princeville club and course, which he described at the crown jewel of the resort. Princeville Golf Course reopened on March 1 and is now managed by Montage Golf. He compared management of the ongoing projects to a Rubik's Cube.
"How do you keep all the employees, and how do you keep moving them around during construction?" he asked.
"If you shut down a hotel and don't have a new one, you're just going to kill all of the businesses. That's why it takes a couple of years to get each project off the ground. You have to systematically move people around and work with limited resources. You take your time, let it go through the cycle," he said. With the Phase I revamp near completion, Stone is conceptualizing plans for Phase II as three low-density housing developments: Princeville Ranch Estates, Prince Villas and Prince Hale.
Phase II housing
"It's a work in progress, connecting Phase I with Phase II, but less dense," Stone said. "Old Hawai'i meets an older, established community. I think this originally was intended to be more resorts, more hotels; but I think now it's really got enough of everything and we're really just trying to balance it."
Stone said Princeville Ranch Estates will be sold as lots located near the Prince Golf Course. Seventeen ranch sites, ranging in size from 10 acres to 100 acres per parcel, have already been subdivided but are not actively being marketed. Pricing has yet to be finalized.
"Then you have other products like The Villas - whole owned," he said. "We call them vacation villas because they're mostly people who buy them and rent them out for vacation use. We're thinking of putting in a classic hale as a paired home, a duplex."
The Hale, a possible condominium development, is still in the conceptual phase and has not been confirmed. The groundbreaking and sales launch date are anticipated for late this year or early 2013. A price point for the projects and anticipated investment were not provided.
"Our goal right now is to reposition the Prince club and golf and Adventure Center, reopen the golf course, which we've done, reestablish Princeville and really take Montage's experience with other's ideas and see if we can't create something really cool," Stone said.
Collectively, it would total 400 homes, plus or minus some, he said; whereas, Princeville Phase I was about 3,000. He estimated that there are around 10,000 to 15,000 vacationers in Princeville at any given time and 2,000 to 3,000 permanent residents. The redevelopment of Princeville produced a $242 million impact for the state and county, a CB Richard Ellis report states, and it carries with it about 2,600 jobs.
"What's really fabulous is the future construction impacts and what it will do for the local economy," Stone said. Also on the horizon, Montage Hotels and Resorts plans to build The Hanalei Plantation Montage, an ultra-luxury resort hotel on 122 acres near the St. Regis.
"We have not yet been advised of the development timetable for the Hanalei Plantation parcel," Stone said.
In addition to Princeville Resort, Stone also led the recent revitalization of Ko Olina Resort, a 642-acre ocean front property on O'ahu, now rebranded as a Disney hotel.
---
---