Prince Course Reopens as Clubhouse Redesign Continues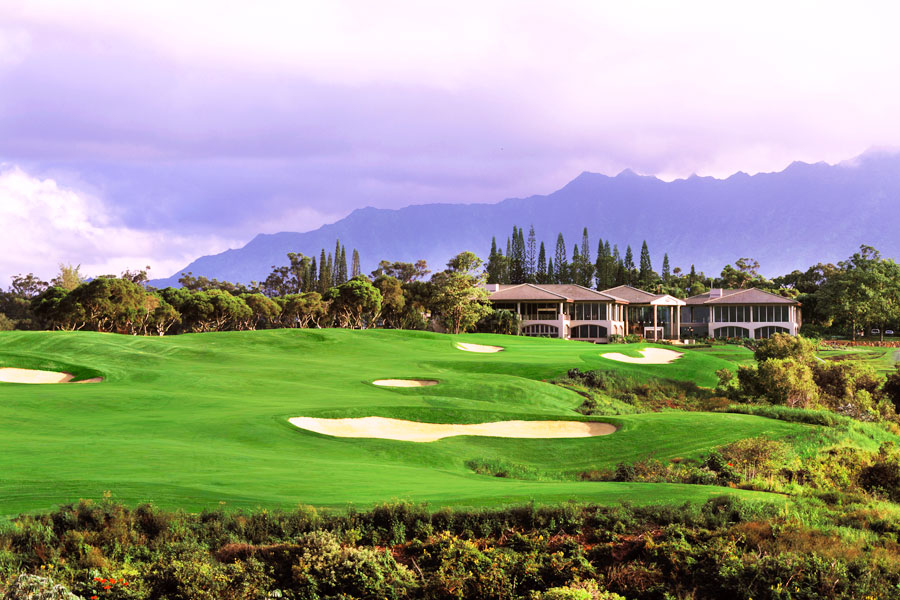 The 18th hole at Prince Golf Course is shown. The course reopened Thursday after a 13-month, $10 million renovation. In the background is Princeville Clubhouse, soon to be re-branded as the Prince Golf Club & Adventure Center.
PRINCEVILLE — With its first tee off in more than a year, the newly renovated Prince Golf Course is open for play.
Princeville at Hanalei master resort developer Jeff Stone was at the Princeville Clubhouse on Wednesday for the Leap Day blessing of the 18-hole, par-72 golf course, following its $10 million restoration by Heritage Links and golf course architect Robert Trent Jones Jr. The golf course opened Thursday.
The next phase of Princeville Resort's master development plan will include remodeling and re-branding Princeville Clubhouse as the Princeville Golf Club & Adventure Center. Montage Golf, a division of Montage Hotels & Resorts, will oversee the management, training and programming of both the course and the clubhouse.
"Montage understands there's a lot more to the area than just golf," Stone said. "Montage's approach is different than most golf managers, and that's the reason I wanted them to be here. They really have an outdoor adventure-based concept. The Adventure Center is something new, something that Kaua'i has never seen before."
The former location of the Princeville Health Club & Spa within Princeville Clubhouse is poised for a six-month transformation into a split-level Adventure Center, a hub for tours and activities on the North Shore. "Kaua'i is one big adventure, and we're saying, OK, we've got this 60,000-square-foot clubhouse sitting here up on the hill, so why don't we take it to another level and see if we can try and create a wonderland of activities and adventures around a world-class Princeville Golf Club & Adventure Center," Stone said. "That's the road we're headed down."
The center's site plan allots 6,000 square feet for Princeville Ranch Adventures and an outdoor function area on the first floor of the club. One level up, the Adventure Retail Country Store and Cafe will span 5,600 square feet and include a kitchen. "We've added Roy's Tavern," he said. "We want to add some more food and beverages, so we'll need a cafe and places to get your coffees and smoothies, so people are not just walking in to buy a golf shirt. Get them into the adventure of it. Create a hub, that's our goal."
The plan is to connect different types of outdoor pursuits available throughout the island, he said, including small independent operators, and possibly expand on what's currently being offered. "We do hundreds of adventures on Princeville Ranch through my own company and the companies I lease to," Stone said. "We have one of the largest adventure combinations that exist — golfing, zip lining, kayaking, horseback riding, waterfalls, hiking. Since 1978, Princeville Ranch Adventures has been offering trips and tours on 2,500 acres of a working cattle ranch. Its new home base will soon be inside Princeville's clubhouse.
"We are repositioning our Adventures assets, but we're not competing with other North Shore businesses. We're growing them and promoting them through the Adventure Center by informing people about what the island has to offer. If there are any adventures going down in Hanalei, we definitely want to promote them here. Whether it's botanical gardens or Hanalei Bay, we can tell them about it. We can really sell the whole island," Stone said.
"I think we'll grow our adventures out and get more. One of the things we're looking at introducing with Montage is biking. We think its a great opportunity for casual bikers and mountain bikers, off- and on-road."
General manager T. J. Baggett said they're considering bringing in Swiss bicycles outfitted with tiny electric motors so that people of all fitness levels can enjoy Kaua'i's hilly terrain.
Stone asked, "How cool would it be to take a bike from here down to Hanalei instead of driving?" The clubhouse, redesigned by Group 70 International, includes a newly designed golf shop, locker rooms, lobby and an outdoor terrace overlooking Bali Hai. "A lot of people just want to come in and look at the view, so we said, 'OK, lets open the view up by moving the starter box,'" Stone said. "The biggest change is the terrace. It will be an iconic shot of Bali Hai, like the outside lanai of the St. Regis."
The terrace will offer cocktails and dining under umbrellas. "We don't want to take anything away from the golf club. We just want to add to it in the spaces that are empty today, make a better experience for the North Shore," he said.
The exterior site plan also calls for a golf club gatehouse entry into Prince Ranch Estates, a new access road, road signage, parking improvements, a new outdoor wood deck and seating area, and a new golf path.
Cart and walking tours to view the resort and golf course scenery will also be available. "Re-branding the clubhouse is quite pioneering," Stone said. "We want to completely reposition the market and see if we can't make a place everyone would want to go, not just golfers."
For golfers, Baggett said Stone and the Robert Trent Jones team over the last 13 months have put together an extensive renovation that has enhanced the playability of the course. "Prince Course has been known as a very difficult golf course," Baggett said. "Improving playability was the big goal. Our goal coming in is to reopen the Prince and really raise the bar of what the experience is and the condition of the golf course as the No. 1 golf course in Hawai'i."
---
---