Four Seasons Resort Oahu at Ko Olina to bring New Era of Luxury to Hawaii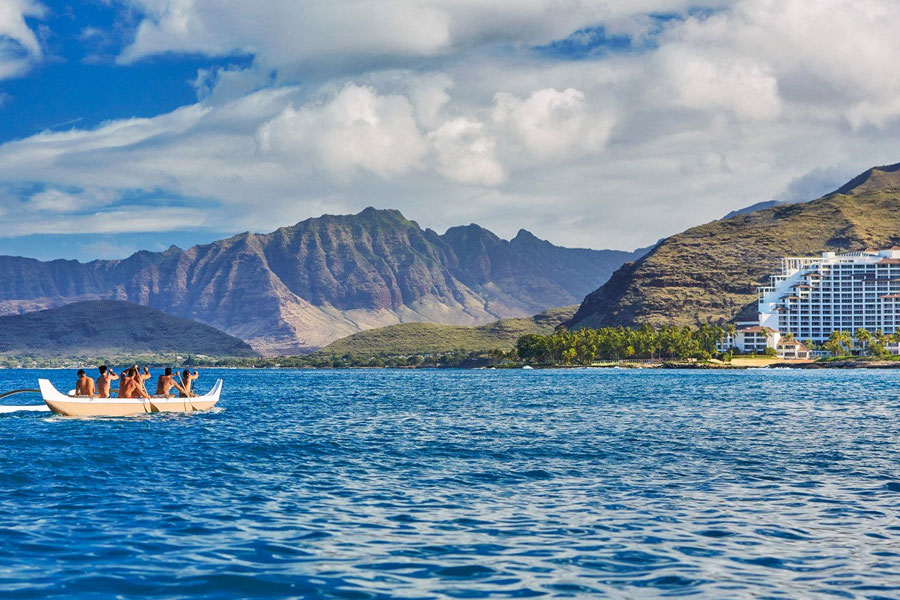 O'AHU, HAWAI'I, (October 25, 2014) - The Resort Group (TRG), one of Hawai'i's largest landowners of resort developments; Westbank (WB), Canada's premier luxury hotel and residential developer; and Four Seasons Hotels and Resorts today confirmed plans for Four Seasons Resort O'ahu at Ko Olina, an integrated luxury beach resort and private residences that will be the jewel in the crown of the master-planned Ko Olina development.
Jeffrey R. Stone, TRG's founder and master developer of Ko Olina, and Westbank founder, Ian Gillespie, will oversee the development of Four Seasons Resort O'ahu at Ko Olina, which will encompass a reinspired Ihilani Resort. The new resort will introduce the first Four Seasons-branded private residences in Hawai'i, offering the unparalleled service that has made the luxury brand famous throughout the world.
"This is the fulfillment of a long-held dream for Ko Olina," Mr. Stone said. "Four Seasons previously explored bringing its quality, elegance and prestige to O'ahu as the company has done so well on Maui, Hawai'i Island and Lana'i. We will oversee this new development with the same stewardship, integrity and sustainability that have made Ko Olina a lasting success. This project will generate substantial, long-term economic benefits to the area for future generations."
Isadore Sharp, Founder and Chairman of Four Seasons, noted that island royalty and the world's elite have long enjoyed Ko Olina, or "Place of Joy" in Hawaiian, as an exclusive gathering place. "Ko Olina on O'ahu, with its pristine natural beauty, is an ideal place for Four Seasons to create a world-class resort and residential experience that exemplifies Hawaiian hospitality at its best," continued Mr. Sharp.
Four Seasons President and Chief Executive Officer J. Allen Smith added, "Four Seasons is committed to Hawai'i, with our existing four hotels on three islands, and we are thrilled with the opportunity to bring the brand to O'ahu, the travel and business hub of the Pacific." With the reacquisition of Ihilani from Cornerstone Real Estate Advisers complete, Westbank will take the development lead on Four Seasons Resort O'ahu at Ko Olina. Known for its unique design expertise and high-quality developments throughout North America, Westbank has assembled an internationally acclaimed team to transform Ihilani into one of Hawai'i's finest luxury resorts. Westbank's design team for this project includes James K.M. Cheng Architects, 2013 Pritzker Architecture Prize winner Toyo Ito, Group 70 International, Philpotts Interiors, and SWA Group.
"Ihilani has the classic architecture of Edward Killingsworth, the property's original architect. He is still recognized as one of the most accomplished architects in the world," Mr. Gillespie said. "This property was the last newly-built hotel on O'ahu, and architect Toyo Ito, also a fan of Killingsworth, has been inspired by the potential to enhance the natural lushness and breathe new life into this beautiful resort and tropical setting."
Honolulu Mayor Kirk Caldwell said, "We welcome the very first Four Seasons Hotel and Resort to O'ahu. The addition of this world-renowned hotel brand will enhance O'ahu's tourism base and support economic growth on the leeward coast. The city looks forward to working with Four Seasons on their expansion plans and the growth opportunities they bring to Ko Olina." Ko Olina is located on the sunny west side of O'ahu. Originally conceived in the mid-1980s, the resort has been reaffirmed many times over the years, most recently by the notable success of Aulani, a Disney Resort & Spa, which debuted in 2011. The 650-acre master-planned community also features Marriott's Ko Olina Beach Club; several private resort residential communities; Hawai'i's only private deep-draft marina; the award-winning Ko Olina Golf Club; four oceanfront white sand lagoons connected by 1.5 miles of shoreline pathways; access to a diverse selection of ocean and outdoor activities; and the island's best weather, all located 17 miles from the Honolulu International Airport.
About The Resort Group
As a master developer, The Resort Group (TRG) is known for creating and repositioning distinctive world-class mixed-use resort communities. Most notably, TRG has been responsible for reimagining two master-planned resort communities in Hawai'i-O'ahu's Ko Olina Resort and Kaua'i's Princeville Resort at Hanalei-both of which feature a selection of globally recognized luxury brands including Four Seasons Hotels and Resorts, St. Regis, Westin Hotels&Resorts and Marriott International. Both resorts offer a mix of vacation homes, condominiums, restaurants, retail centers, golf courses and equestrian and outdoor adventures. TRG also operates Resort Air, one of Hawai'i's only private jet and helicopter charter companies with service between Princeville's private airport and all neighbor islands. For more information, please visit www.theresortgroup.com
About Four Seasons Hotels and Resorts
Founded in 1960, Four Seasons continues to define the future of luxury hospitality with extraordinary imagination, unwavering commitment to the highest standards of quality, and the most genuine and customized service. Currently operating 93 hotels and private residences in major city centres and resort destinations in 38 countries, and with more than 60 projects in development, Four Seasons consistently ranks among the world's best hotels and most prestigious brands in reader polls, traveller reviews and industry awards. For more information, visit fourseasons.com. For the latest news, visit press.fourseasons.com and follow @FourSeasonsPR on Twitter.
About Westbank
Established in 1992, with over $12 billion of projects completed or under development, Westbank is active across Canada and expanding into the United States and Asia with five-star hotels, luxury residential, rental apartments, affordable housing, office and retail. The main focus of the practice is on large mixed-use projects with great importance on sustainability. Westbank's hotel and residential projects have a heavy emphasis on design. Recently, Shangri-La Hotel Toronto was chosen by Wallpaper magazine as the top urban hotel in the world and its most recent residential project, Vancouver House designed by Bjarke Ingels Group, has received a great deal of architectural and public acclaim around the world. The goal of the firm is to create a body of work that is improving the cities it practices in while incorporating a high degree of artistry. westbankcorp.com
* High resolution images available *

Contacts:
The Resort Group
Sheila Donnelly Theroux
sheila@sheiladonnelly.com
808.949.4131
Four Seasons Hotels and Resorts
Laura Zanzal
Laura.Zanzal@zenogroup.com
212.299.8955
Westbank Communications
Jill Killeen
jill@killeencommunication.com
778-837-8907
---
---