Expansion at Ko Olina Fuels Tourism Boom and Boosts Businesses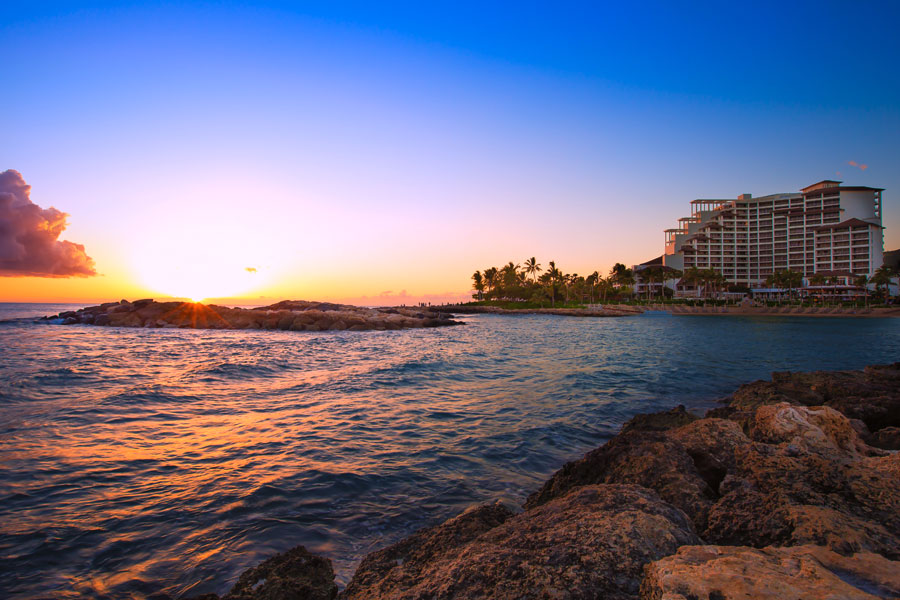 The movie "Snatched," which premieres Mother's Day weekend, features a scene in which Goldie Hawn rubs suntan lotion on Amy Schumer, who is sunning at the adult pool at the Four Seasons Resort Oahu at Ko Olina. While the two Hollywood stars are featured, the scene stealer is the pool's aquamarine water blending into the backdrop of the Pacific Ocean and the Waianae Mountains.
"People are going to watch that scene and say, 'Where is that pool?' and Google it. When they find out that it's at the Four Seasons Resort Oahu Ko Olina, it will generate even more buzz for a destination that is just coming into its own," said David M. Gelezinsky, president of New York-based Land and Sea Adventures, who included West Oahu for the first time in a scouting trip of Hawaii's top destinations to bring incentive travelers. "New Yorkers are very demanding people. If they are going to fly 10 hours, they want to fly into luxury. What they sought wasn't on Oahu before, but it is now. Waikiki is Fort Lauderdale. Ko Olina is Palm Beach."
Recent and planned additions to the 642-acre Ko Olina Resort have created a critical mass for West Oahu tourism. The opening of Disney's Aulani Resort in 2011 and the Four Seasons, which celebrates its first anniversary May 27, has allowed new businesses to relocate to West Oahu and established businesses to grow. A $2 billion mega resort planned by Atlantis will add another 800 hotel rooms and 524 residences to the 1,992 already in Ko Olina.
Waikiki, with roughly 30,000 hotel and condo units, remains the most visited destination in the isles and the center of the state's GDP. But Ko Olina is making inroads.
At full build-out, Ko Olina was originally envisioned to reach at least 4,000 hotel rooms and 5,000 resort and residential condominiums - that's more comparable to Maui's top resort district, Wailea, than Waikiki, said Hospitality Advisors President and CEO Joseph Toy. But in November, Ko Olina master developer Jeff Stone revealed a broader, $5 billion plan driven by China Oceanwide Holdings to nearly double the resort by connecting it to another 514 acres. Known as Kapolei West, that portion would add up to 2,500 mostly resort homes wrapping around a second golf course. The expansion would connect Ko Olina's main Aliinui Drive with the adjacent Kapolei West site and go through to Kapolei Commons to make a resort rivaling Waikiki's land mass.
Rates, Revenue Growing
With more than $500 million in renovations under its belt and a staff of 750 workers, Four Seasons has moved into the top-priced luxury destination on Oahu, said General Manager Sanjiv Hulugalle.
---
---