Details Revealed for First U.S. Atlantis Resort at Hawaii's Ko Olina Resort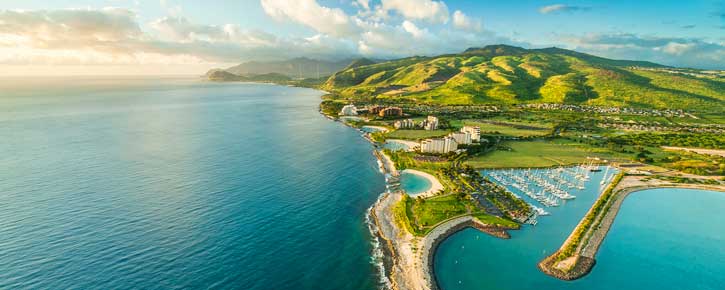 Kerzner International's first Atlantis resort in the United States is coming to the 642-acre Ko Olina Resort in West Oahu and will include a total of 1,324 hotel rooms and luxury residences, an aquarium, a wedding chapel and a water park. China Oceanwide Holdings Ltd. said in a public filing Thursday that it will develop the 26.3 acres it recently purchased at Ko Olina Resort as an Atlantis-branded resort. The three parcels of land are located next to Disney's Aulani resort.
China Oceanwide will now start the design and construction process of these properties into an international luxury resort to be named "Atlantis Resort & Residences Ko Olina," which will include about 800 hotel rooms and about 524 luxury residences marked in association with the Atlantis brand, an aquarium, restaurants, bars, a spa, a gym, conference facilities, a wedding chapel, outdoor pools and bars and a waterpark. The regulatory filing released Thursday by China Oceanwide in The Stock Exchange of Hong Kong, is the first glimpse of this new major project, which would be the first of its kind in Hawaii and the U.S. It is also being described as being similar to Atlantis The Palm, Dubai, which has a waterpark, an aquarium, a dolphin encounter area and sea lion park. It also has more than 20 restaurants, a nightclub, spas, salons and a fitness center. There are currently no plans to include a dolphin encounter area and sea lion park in the Atlantis Ko Olina Resort, a spokeswoman for China Oceanwide, told PBN.
Steven Wang, senior vice president for Oceanwide Hawaii, told PBN that the project is in the early planning stages and hope to have a more detailed timeline regarding construction start and finish dates in the coming months. He said the total cost of the development is not available at this time. The architect and general contractor for the project has not yet been selected. When asked about hotel room rates and prices for residences, Wang said that, as the project is still in the early planning stages, this information is not available at this time.
PBN has reached out to Kerzner International regarding jobs that the project will create. Last month, Kerzner International Management Services Hawaii Inc. was formed as a new business in the state. The mailing address for the new business lists the address of Atlantis The Palm in Dubai. Kerzner International was founded by South African business magnate Sol Kerzner.
"Oceanwide and Kerzner bring extensive global development experience to Ko Olina," said Jeff Stone, master developer of Ko Olina and The Resort Group's founder, in a statement. "This project is extremely exciting for the state of Hawaii and will undoubtedly enhance the entire destination experience at Ko Olina. A project of this scope and quality will heighten Oahu's recognition as a luxury destination for years to come and broaden Hawaii's appeal to affluent travelers from around the world, including the discerning millennial market."
PBN broke the news that Atlantis Resorts would be expanding to Hawaii on vacant oceanfront parcels of land near Aulani, a Disney Resort and Spa at Ko Olina Resort in West Oahu. In September, a subsidiary of China Oceanwide Holdings closed on the $280 million purchase of 26 acres of land between at Ko Olina's "Kohola Lagoon 1" and "Honu Lagoon 2."
---
---