2 More Hotels Planned for Ko Olina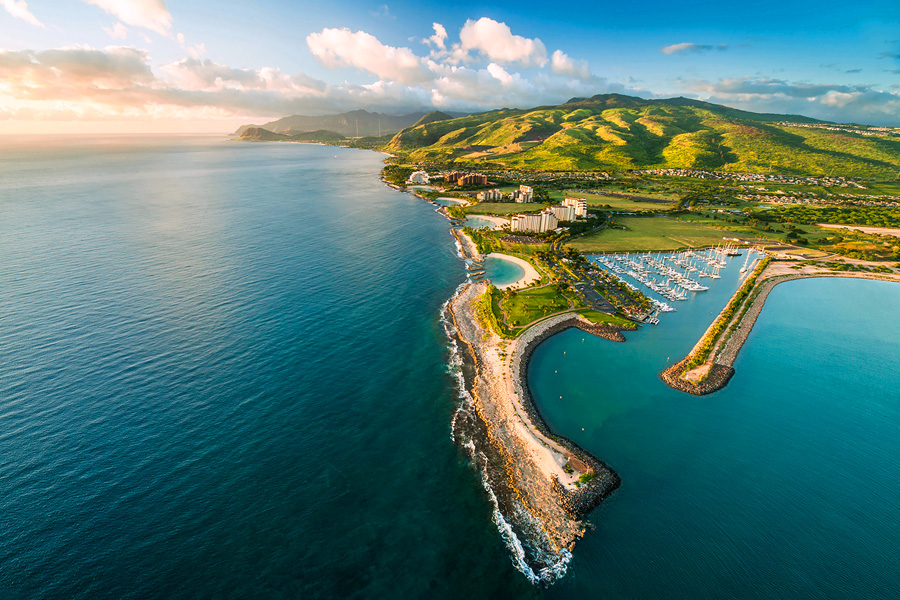 A Chinese corporation closed on two Ko Olina Resort beachfront parcels Thursday and plans to make a $1 billion investment, including the construction of two new uber-luxury branded resorts.
China Oceanwide Holdings Group Co. Ltd. paid $200 million to purchase the 1 million-square-foot fee-simple property, said Jeffrey R. Stone, founder and master developer of The Resort Group, Hawaii's largest landowner of master-planned resort communities. Stone said the company plans to build two new hotels, which will add 400 traditional hotel rooms and 400 residences to Ko Olina Resort. Stone said hotel branding will be announced before midyear, with construction expected to start by the end of 2016 and a target opening of 2018.
In addition to bringing Ko Olina nearer to the conclusion of what's been about a 20-year build-out for Stone, the investment is expected to attract more of China's coveted high-end visitors and bolster further Chinese investment in Hawaii. The purchase is expected to play a major role in increasing the emerging China market, which was forecast to bring only just over 185,000 visitors to Hawaii next year.
"By far and away this is the largest Hawaii hotel investment from a Chinese investor. Nothing compares to this," said Joseph Toy, president and CEO of hotel consultancy Hospitality Advisors LLC. "We've seen that level of investment on the mainland, but never in Hawaii before."
And what's even better is that the investment will bring two new luxury hotels to Oahu, where Toy said only about 1,450 of about 28,000 hotel and condo rentals can be counted among the highest tier. The significant increase in top hotel rooms is expected to attract more higher-yield visitors, whose spending keeps tourism growing regardless of capacity caps.
George D. Szigeti, president and CEO of the Hawaii Tourism Authority, said further development at Ko Olina is welcome news for Oahu's visitor industry, which has been grappling for some time with hotel room compression in Waikiki and has needed more top-tier rooms.
"These new luxury hotels at Ko Olina will help alleviate concerns that westbound, and especially international, travelers have about securing first-class accommodations, while expanding their range of offerings to choose from,"
Szigeti said. "Keeping travelers excited about coming to Hawaii means our industry needs to continually evolve to satisfy their expectations. These new hotels help us to meet that reality and, ultimately, our entire visitor industry stands to benefit."
Stone said Ko Olina's partnership with China Oceanwide along with the May 27, 2016, opening of the Four Seasons Resort Oahu at Ko Olina and the August 2011 opening of the Aulani, a Disney Resort & Spa in Ko Olina, together play a pivotal role in attracting more of the world's most admired hotel and leisure brands to Oahu.
"China Oceanwide has deep expertise in real estate development. The Ko Olina acquisition complements our global investment strategy very nicely, and will greatly enhance our international development portfolio," said Lu Zhiqiang, China Oceanwide chairman. "We look forward to our partnership with Ko Olina and the Hawaii community."
Stone, founder of The Resort Group, said its long-term strategy is to position Ko Olina as a premier mixed-use destination offering a sophisticated mix of upscale hotels, branded private residences, vacation clubs and recreational and leisure amenities with international appeal.
"China Oceanwide will bring development of our master plan to 75 percent," Stone said. "We only have two parcels in the resort remaining. There's the marina resort site at Lagoon Four, and then there's the grand Ko Olina site that's next to Disney."
At full build-out, Stone said total investment in Ko Olina is expected to exceed $15 billion, with a yearly generator of $1.4 billion a year to the state. All the projects together will have created more than 35,000 construction jobs and some 14,400 permanent jobs, he said.
---
---