1 Hotel Hanalei Bay Opens After $300M Overhaul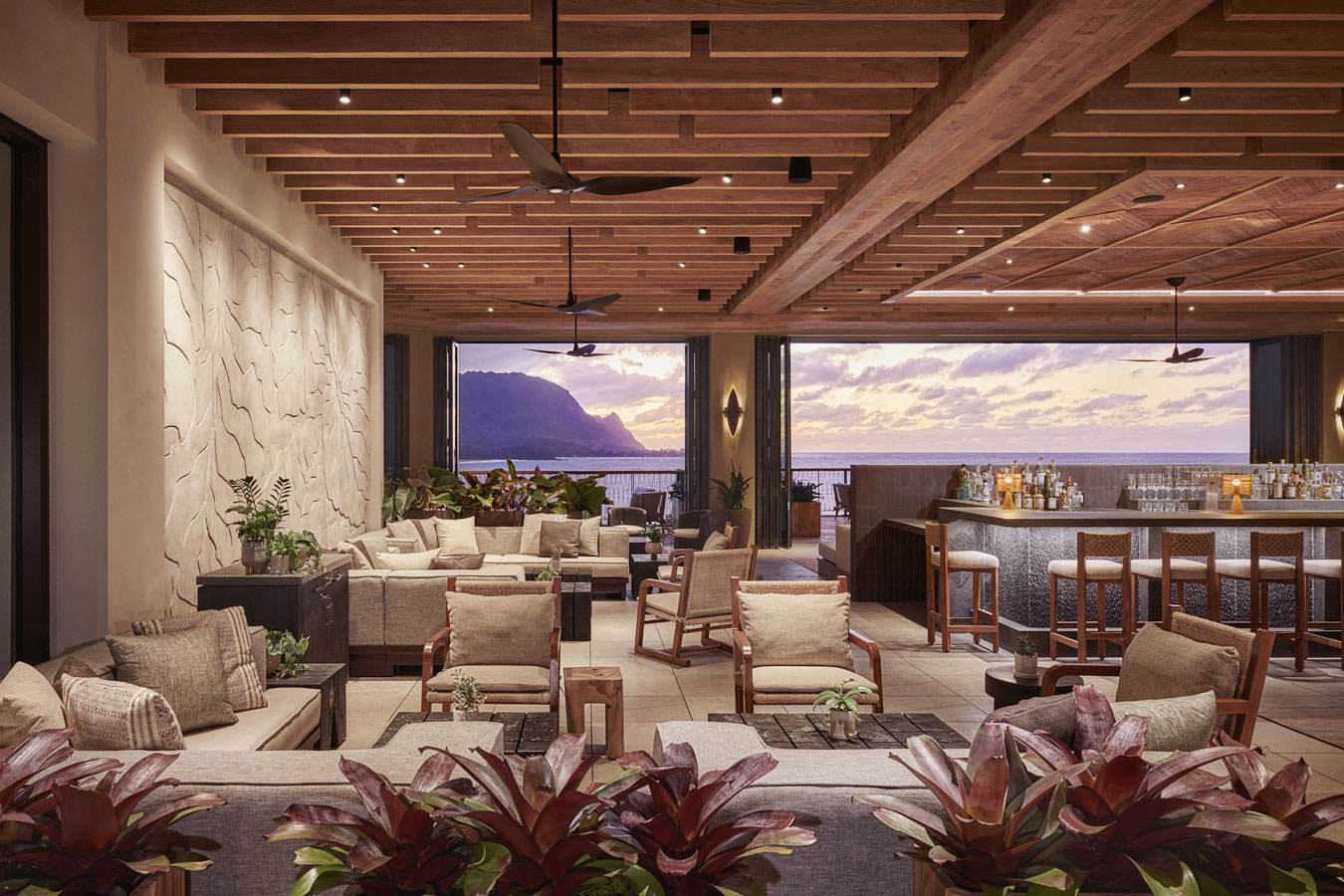 1 Hotel Hanalei Bay, which opened in February on Kauai, aims to set new standards of sustainability for the luxury hotel market — an expensive quest that contributed to an investment approaching $2.1 million per room, among the expenditure highs for purchasing and transforming a resort in Hawaii.
Starwood Capital Group reportedly acquired the 252-room St. Regis Prince­ville Resort for about $225 million in 2018 and said it intended to spend $100 million renovating and rebranding the property as 1 Hotel Hanalei Bay. Instead, it spent $300 million and declared the newly transformed resort as the 1 Hotels brand's flagship.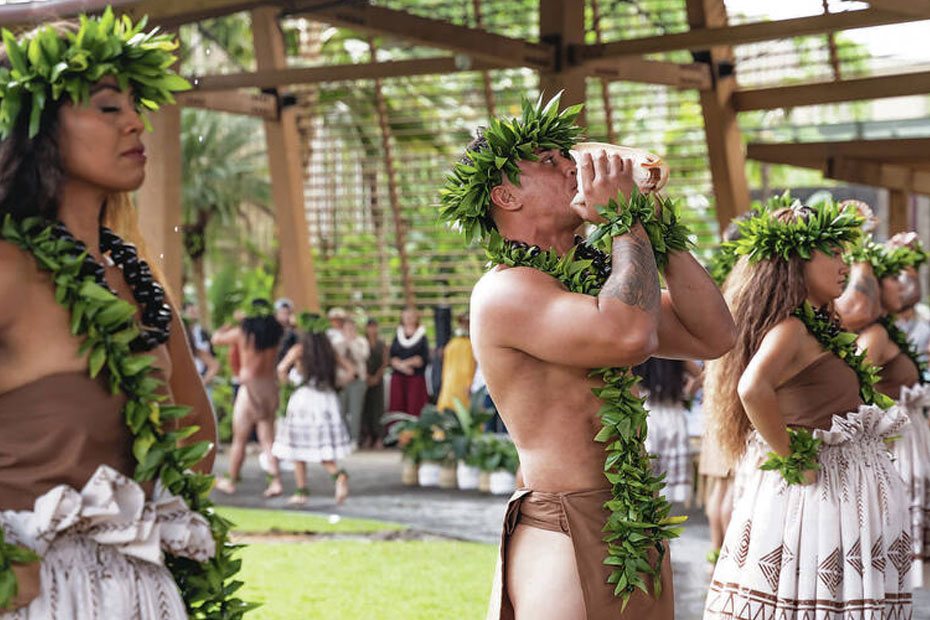 Gone is the imposing footprint of the Princeville Resort, which stood out like a white castle when it opened in 1985 as a Sheraton and remained largely unchanged even after the resort became a St. Regis in 2009 after $100 million in renovations. 1 Hotel Hanalei Bay has been turned into a largely open-air structure with a neutral palette of rustic and reclaimed materials that disappears into a newly planted native landscape bringing views of Hanalei Bay and Makana Mountain to the forefront.
1 Hotels' founder and chairman, Barry Sternlicht, who launched 1 Hotels in 2015, said in a statement, "Hanalei Bay is the culmination of everything we've sought to achieve with the 1 Hotels brand. What makes the opening of this property such a special moment for me is that my family and I vacationed in the area for decades. When I first visited, I found the existing hotel not in keeping with its natural landscape. I had a vision of creating an extraordinary resort that would combine the magic of a lush native landscape with the region's rich culture and history."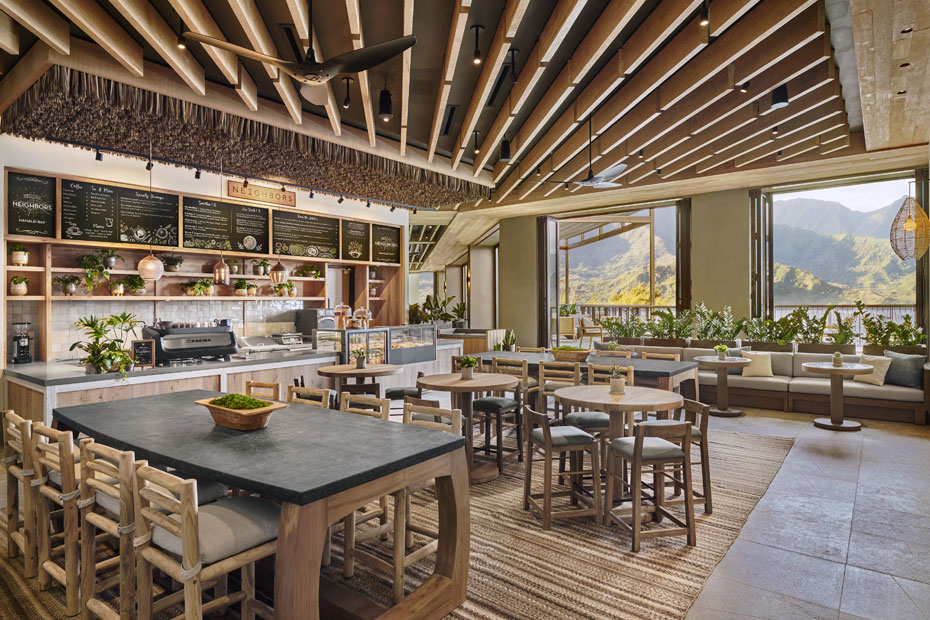 1 Hotel Hanalei Bay General Manager Jon Gersonde said the lifestyle brand's properties beyond Hanalei now include South Beach, Fla.; Manhattan, N.Y.; Brooklyn Bridge, N.Y.; West Hollywood, Calif.; Sanya, China; Toronto; San Francisco; and Nashville, Tenn. Projects also are under development in London (Mayfair); Cabo San Lucas, Mexico; Paris; Elounda Hills on the Greek island of Crete; Austin, Texas; Copenhagen, Denmark; Riyadh, Saudi Arabia; and Melbourne, Australia.
Gersonde said the Hanalei property's oceanfront cliff-side location outside of an urban oasis sets it apart, as have the vast physical changes that were made to turn it into a 1 Hotel, and of course the employees, who now number around 350 with the goal of adding at least another 50.
"This is an iconic location not just for the community and the island of Kauai, but for the state as a whole. Everyone knows Princeville," he said, adding that the property's physical changes as well as its community partnerships, which extend into the hotel's culinary, spa, wellness and cultural offerings, have been well received.
1 Hotel Hanalei Bay is getting a lot of buzz outside of Hawaii, too. It received big write-ups in Forbes, Conde Nast and The New York Times, and made CNN's list of best hotels to book in 2023. People are talking about the latest luxury upgrades, which make it the top hotel on Kauai, with an introductory nightly rate starting at $1,200 a night. But a key focus has been the resort's mission-driven sustainability goals.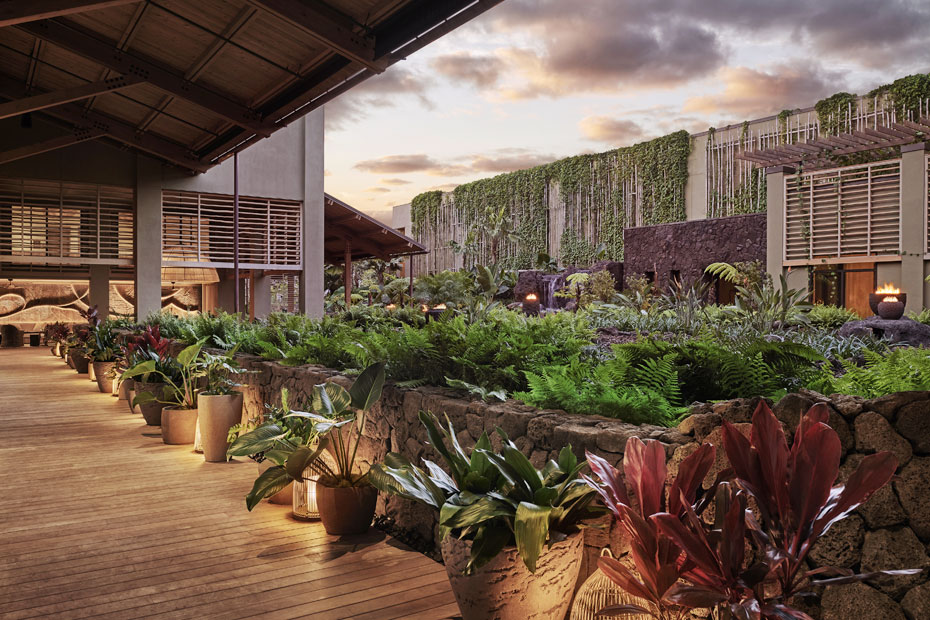 Corinne Hanson, corporate director of sustainability and impact for SH Hotels & Resorts, 1 Hotel Hanalei Bay's management company, explained, "Our operations, our gorgeous design, the luxury brand that we provide, the destinations, the activations — those are places where we want to compete with other hotel brands. But our sustainability is something that we want others to commit to, learn from us, grow with us, challenge us on, and it's sort of a pre-competitive space where we can encourage the industry to grow and change and develop."
Hanson said construction goals for 1 Hotel Hanalei Bay focused on deconstruction rather than demolition and renovating rather than rebuilding. Greenhouse gas emissions were reduced by partnering with Re-Use Hawaii to salvage nearly 150 tons of on-site furniture, fixtures, equipment and other materials. She said the property has a zero-waste policy and is going after Leadership in Energy and Environmental Design, known as LEED. Hanson added that an increase in native landscaping along with water features that recycle have contributed to a 97% increase in water efficiency.
She said 1 Hotel Hanalei Bay had to figure out secondary recycling, and it worked with Hanalei Coffee Roasters to create a compostable pod and with Heart &Soul Organics to make sure that anything coming out of the hotel's food and beverage outlets could be composted on-island.
The property's investment and renovation costs are noteworthy as they rival significant historic investment in the property. Keith Vieira, principal of KV &Associates, Hospitality Consulting, said the current investment "goes well beyond a renovation. This is a complete repositioning." Vieira said he expects the investment will help drive room rates higher, which will help bolster tourism returns for Kauai. He said the creation of a new ultraluxury destination on Kauai also could spark additional interest in high-end offerings throughout the islands.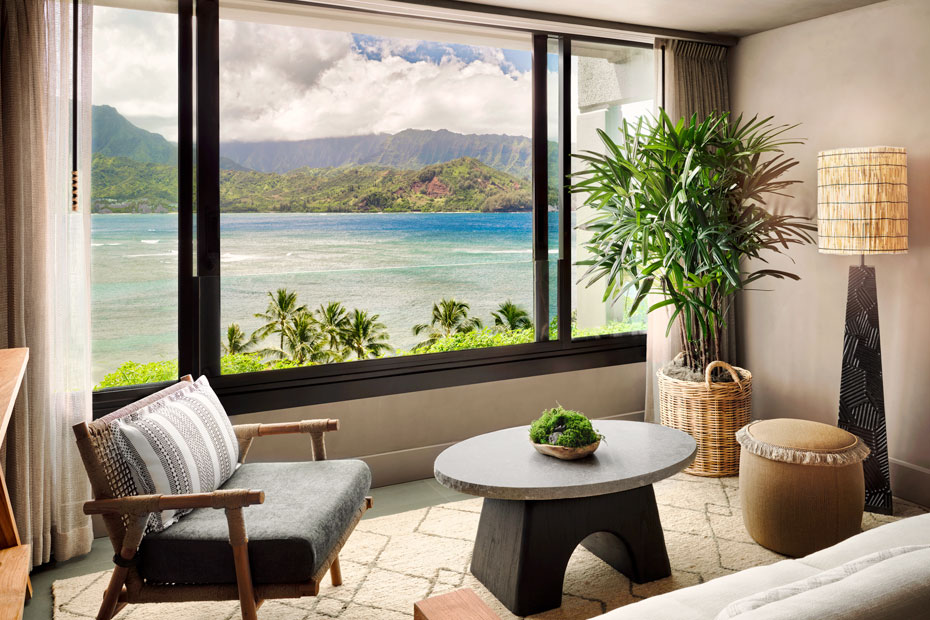 Emmy Hise, senior director of hospitality analytics for CoStar Group, said in an email that the purchase price and the renovation costs for 1 Hotel Hanalei Bay equate to a price-per-key cost of $2.1 million, but noted that part of the higher sales price is most likely factoring in the 290-acre Makai Golf Club.
"In the U.S., only 15 hotel transactions of the over 25,000 properties sold in the past decade incurred a price-per-key above $2 million," Hise said. Wise said of the hotel transactions that CoStar has sales prices for in Hawaii, the average price-per-key in the past five years for luxury-class hotels was $900,000.
"That said, Hawaii is a high-barriers-to-entry market, so most owners have a long-term hold strategy, thus limiting the number of hotel transactions," she said. "However, when modeling a value for each property in Hawaii, we estimate the Luxury Class market average price per key is around $1.5 million."
1 Hotel Hanalei Bay
5520 Ka Haku Road, Princeville, Kauai HI 96722
Directions: View Map
Visit 1hotels.com
Reservations: 833.623.2111
---
---